Ooooh, how exciting... I have just received my first ever award and hopefully I've added it here! Thank you SO much to Andria at
http://iona-rose.blogspot.com/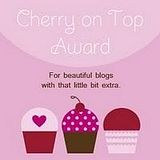 There are a few rules to go with this award so here goes...
1) Thank the person who gave you this award ~ THANK YOU Andria, I'm amazed you've given it to me, I know I need to keep my blog up-to-date more often and promise I will try hard!!
2) Place the award on your blog ~

Done.


3) List three things you love about yourself ~
I have a fantastic husband, I have lots of friends and I am going to be a mummy in January (that's the thing I love most!!)
4) Post a picture you love ~ this one is easy, I just have to figure out how to get it on here!




The very first time we saw our baby at our 12 week scan on 14th June 2010. We are now 21 weeks and 3 days - 18 weeks and 4 days to our due date!



5) Pass this award onto 5 other people ~


This is also a bit tricky because I don't have many followers and I don't follow a lot of blogs. One of the ones I do follow is Andria's (where the award came from!) and 2 of the others were given the award BY Andria so I'm a bit stuck with this one!




Anyway, here goes...


1. Gemma at http://makedoandgem.blogspot.com/ - I can't remember how I why I ended up following her blog (as is usually the case with me!!) or she mine but never mind!
2.

Sandra at

http://stamperontheshore.blogspot.com/

- again not sure how she ended up being a follower of my blog but she is!


3. Lisa http://crafty-moments.blogspot.com/who I recently bought some stash from through the DoCrafts forum (even though I'm not supposed to be spending money any more!!)
4.
Emma http://emmalouisecards.blogspot.com/who I also bought goodies from via the DoCrafts forum!
and 5. Sarah and who was one of the regulars at our crop here in Chirk until the shop closed. Fingers crossed we will be restarting at Froncysyllte Community Centre in September or October!
http://craftamongthelandrovers.blogspot.com/