My mum had a colleague who was leaving and the other in the office wanted a card for her. The only info I got was that she's of Asian origin so they wanted something bright and colourful!
With only that very basic brief to work with, this is what I came up with!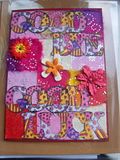 Lots of handmade papers cut and torn into squares. Paper flowers fastened down with brads, which have quickly become a regular feature in my cards! Stamped letters using patchwork alphabet from Dimension Fourth.