I am a member of the DoCrafts forum and sometimes take part in the monthly Friendship Card Swap. In April there was no set challenge, so my partner and I thought we'd set our own challenge. We decided on the colours chocolate and mint (it WAS Easter after all!) and chose the Sketch Saturday Challenge layout for the week we were on and this is what I came up with! I was so impressed with it that I am definitely going to use layouts a lot more, when I have time to have a look at some and print some out!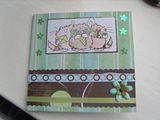 And this is the card I received in return....
Complete with some fantastic stamped images which may appear later on!