Today's big news is our latest addition... a gorgeous 6 and a half week old kitten. He was the smallest in a litter of 5 and the last one left! Compared to our other cat, Tilly, age 2, (who was 4 months old when we got her) he SO small!
Just adding some photos of him now. He was temporarily called Spud by the people who own his mummy but we think he's going to become Tigger now!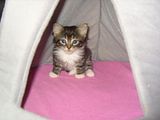 Tilly investigating the new arrival!